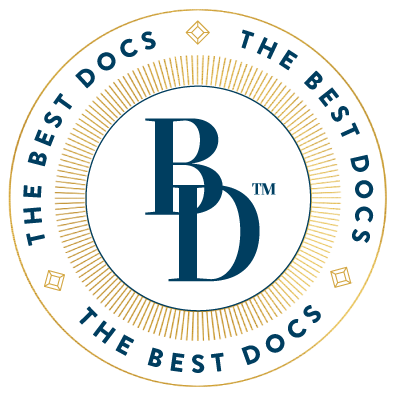 Dr. Rovner is Recognized by Best Docs
Best Docs
While many websites claim to list top doctors based on legitimate information, many of these publications charge fees from doctors in exchange for providing them with placement on a given list. After reviewing various listing websites, Best Docs found that only a few of them had trustworthy information.
These trustworthy sites make their decisions for placement based on "peer nominations," which essentially means having physicians nominate doctors who they feel are deserving of recognition in any particular medical field in any particular area of the country. Doctors cannot nominate themselves. Once these organizations collect all of the nominations, they carry out a full assessment of the doctor's medical education, training, board certifications, hospital appointments, administrative posts, professional achievements, and malpractice and disciplinary history before considering them for a top doctor position.
No system is ever perfect, but this one seems to provide the best physicians while safeguarding against foul play. If a doctor is willing to trust a certain doctor with their family's health and safety, it is a good indicator of their quality.
Dr. Rovner
Best Docs has selected Dr. Joshua S. Rovner, MD as the top doctor for Robotic Spinal Fusion Surgery in the state of New Jersey. He is well-known for his minimally invasive surgical techniques, which enable him to address issues in the spine in a safe and quick manner. His dexterity and precision are what make him one of the most widely respected physicians in New Jersey and beyond.
Dr. Rovner's extensive educational background includes a medical degree from the State University of New York Downstate Medical Center College of Medicine and a residency in orthopedic surgery at Albert Einstein College of Medicine in New York City. He also completed a spine surgery fellowship at the highly renowned Twin Cities Spine Center in Minneapolis, Minnesota.
Board-certified by the American Board of Orthopedic Surgeons, Dr. Rovner helps patients in New York and New Jersey alleviate spinal issues and ensure that they have a future that is free of pain. He has board certification in orthopedic surgery and practice specialization in spinal surgery.