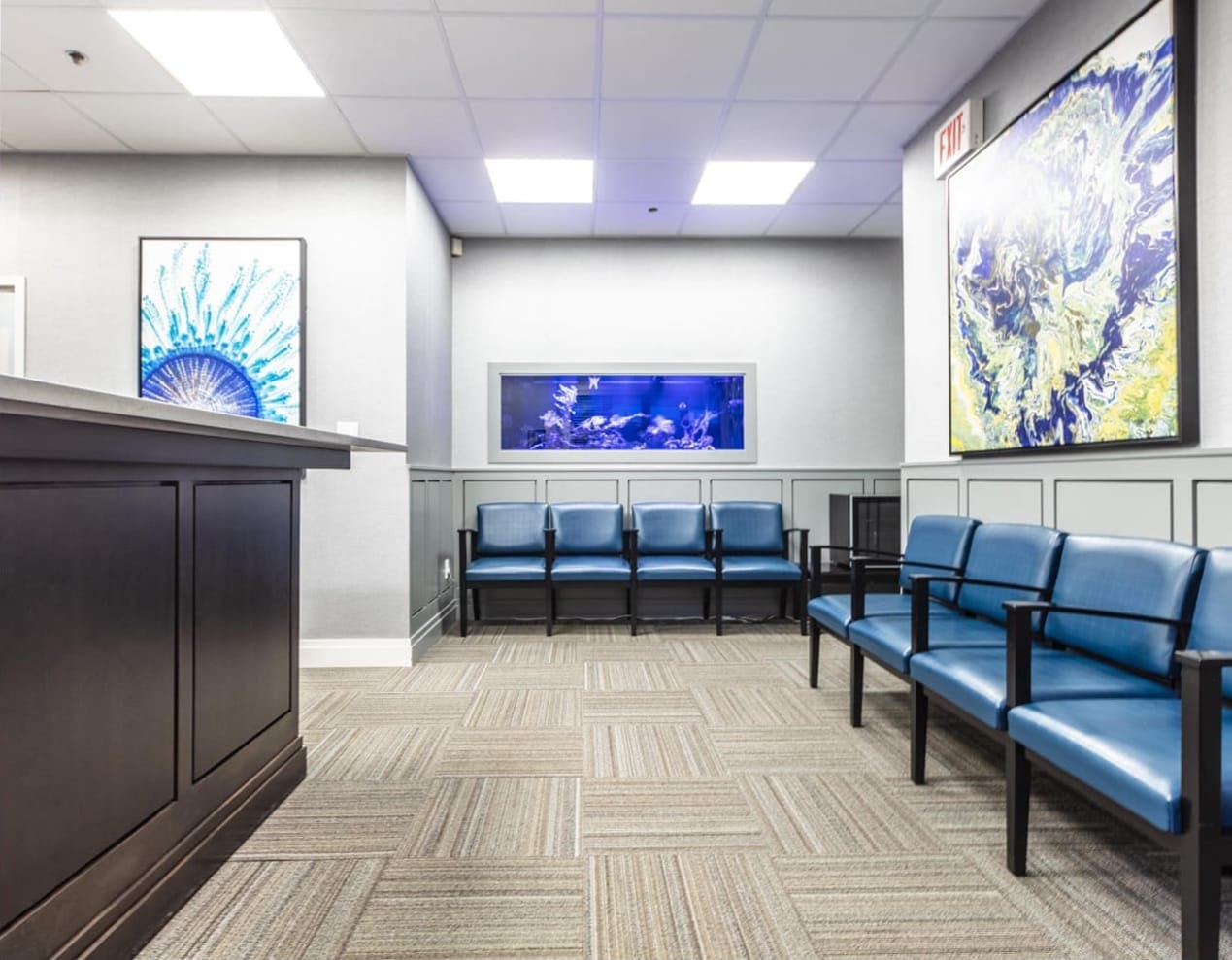 Helmed by board-certified orthopedic and spine surgeon, Dr. Joshua S. Rovner, our center specializes in diagnosing the source of your neck and back pain and achieving relief through minimally-invasive surgery, so that you can get back on your feet and enjoy your active lifestyle with ease once again. Many consider that Dr. Rovner delivers some of the best spine surgery NJ has to offer, so you are in good hands with Dr. Joshua Rovner.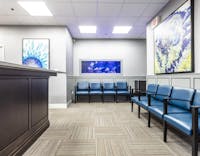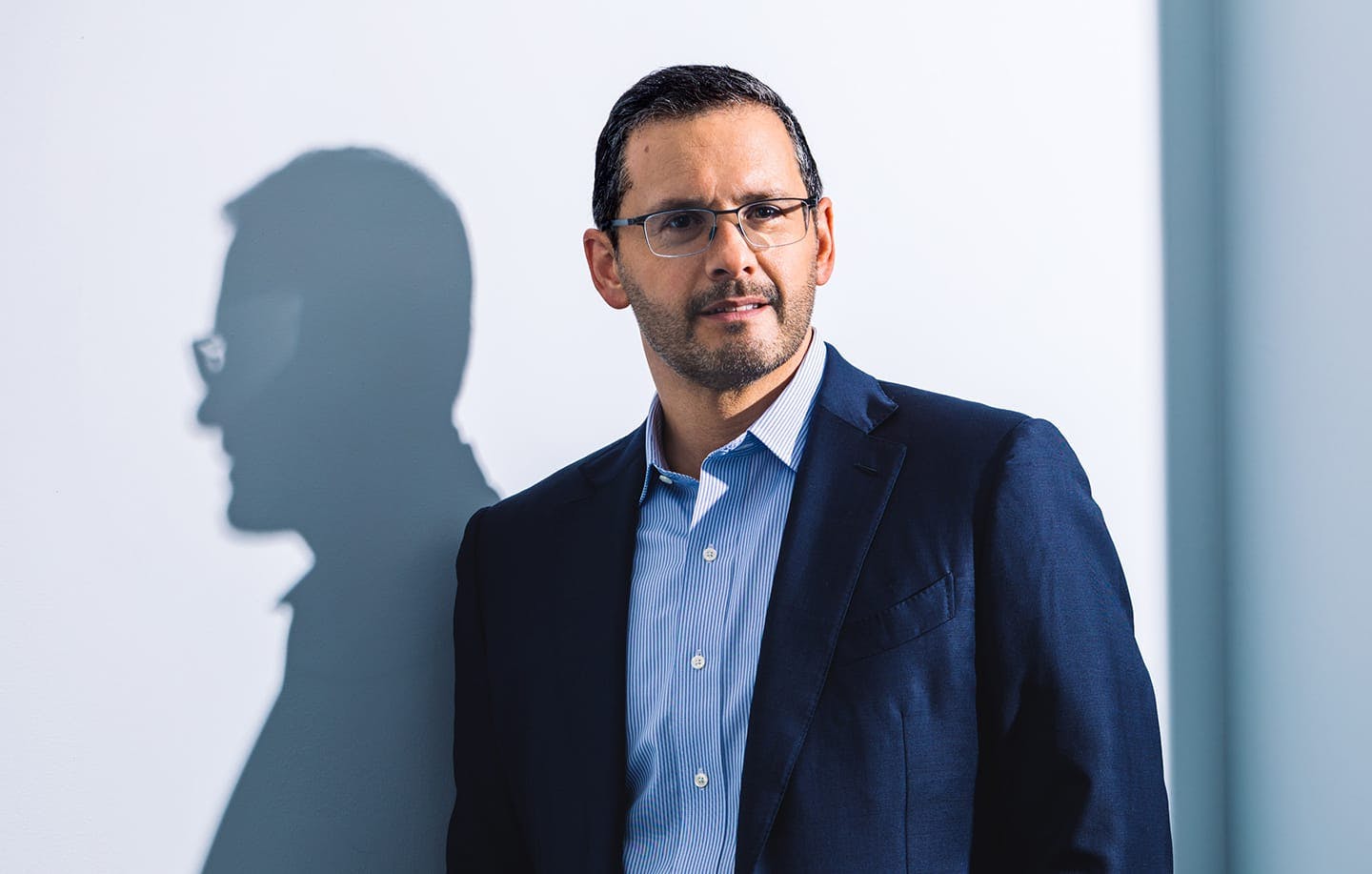 A global leader in robotic spine surgery
Dr. Joshua
Rovner
As one of the best spine surgeons in NJ, Dr. Joshua S. Rovner provides surgical treatment of pain related to the neck and entire back. Dr. Rovner is one of the few providers of spine surgery in New Jersey that specializes in both minimally invasive spine surgery and robotic spinal surgery. These procedures are safer and more precise alternatives to traditional surgery and are shaping the future of spinal and orthopaedic medicine. By helping individuals leverage more progressive means of minimally-invasive spine surgery, Dr. Rovner helps his patients undergo a smoother surgery with faster recovery times.
A patient-centered and personalized approach enables Dr. Rovner and his New Jersey spine surgery team to diagnose and treat problems related to deformity, trauma, and degenerative conditions. From traditional procedures like lumbar spinal fusion, sports medicine and disc replacement surgery to more advanced and minimally-invasive techniques like robotic spine surgery, Dr. Rovner is one of the most comprehensive and experienced providers of spine surgery available.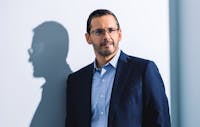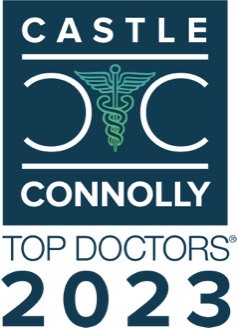 Dr. Rovner Named a Top Doctor by Castle Connolly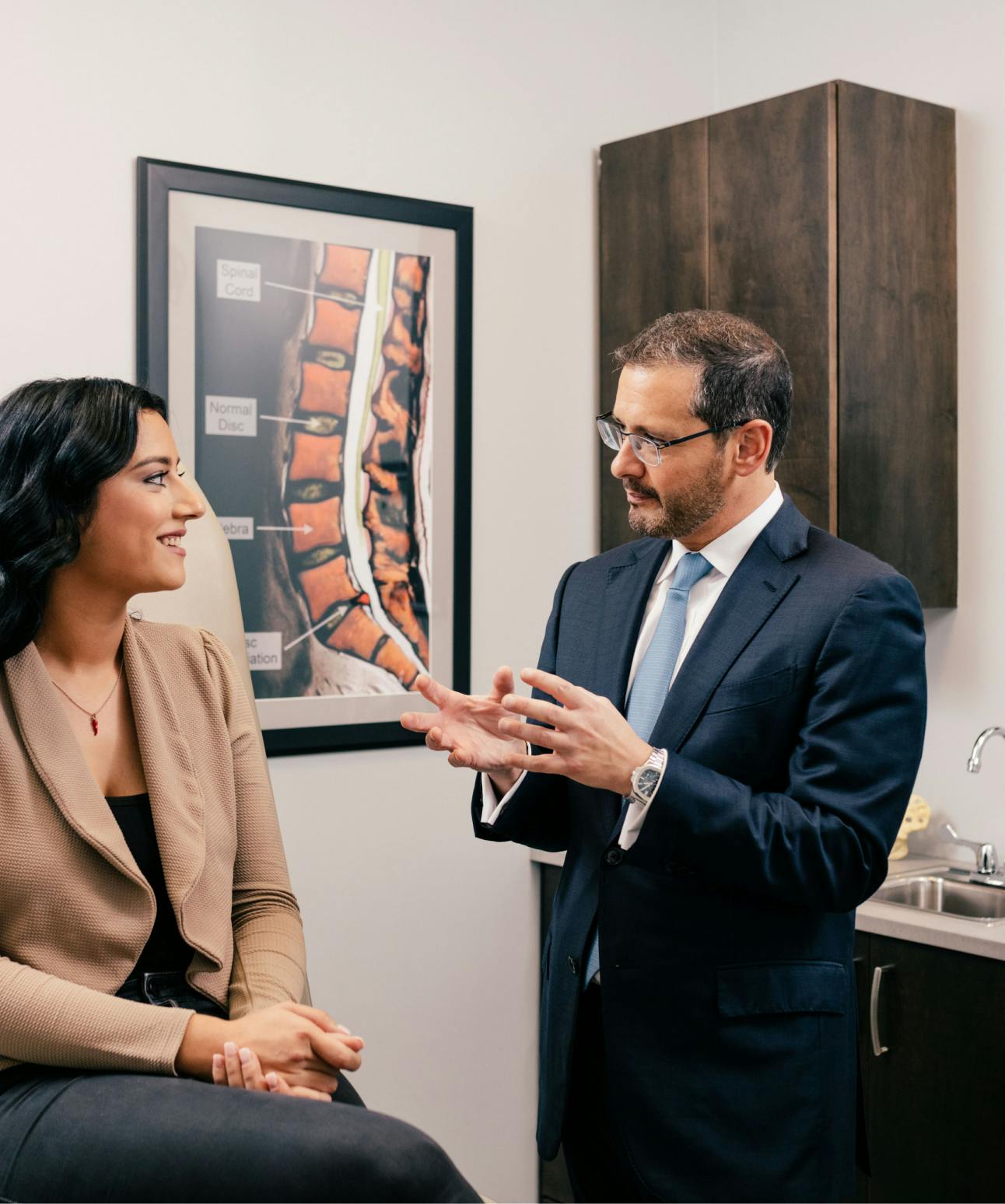 With Dr. Rovner, the Emphasis is on You
At Progressive Spine and Orthopaedics, Dr. Rovner's years of experience and professional skills are completely focused on you. Expect a thoughtful, individualized approach that truly takes you into account as an individual. Dr. Rovner dedicates his time to understand your concerns, correctly assessing your pain and your needs, and designing a personalized surgical plan that achieves your goals.
Patients choose Dr. Rovner instead of the impersonal experience at big hospitals because Dr. Rovner performs every surgery himself. Major hospitals are often teaching hospitals where patients are operated on by hospital residents, medical students, or fellows who lack experience. With Dr. Rovner, patients are operated on by an experienced, highly skilled, board-certified surgeon. Dr. Rovner is known for his patient care and results. His surgical skill is among the very best in the state.
Dr. Rovner begins with a detailed consultation to discuss your pain and your medical history. As he creates your custom surgical plan, he is dedicated to ensuring your surgical journey is precise and perfect from start to finish–designed specifically for you. Your experience, from preparing for surgery until you've fully healed, includes complete access to YOUR surgical team by email or phone at any time, 24 hours a day, seven days a week.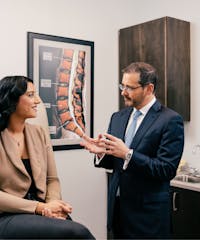 Spine Conditions
Before we can treat your pain, we need to understand your condition. By locating the underlying cause of your symptoms first, we avoid unnecessary treatments, save time and money, and deliver the relief you need as quickly as possible. With years of experience diagnosing the full range of spinal disorders and diseases – both common and uncommon – few specialists are more qualified than Dr. Rovner. Providing patients with some of the best spine surgery NJ has to offer, Dr. Rovner will help educate you on your condition, and address your pain. Spinal Conditions

01

Diagnosis

02
At Progressive Spine & Orthopaedics, our team of acclaimed spinal surgeons and pain relief specialists deliver a wide scope of non-invasive and surgical and non-surgical treatments for spinal conditions, including treating back pain, neck pain, spinal fractures, tumors, kyphosis, rheumatoid arthritis, sciatic nerve pain, herniated discs, scoliosis in adolescents, scoliosis in adults, spondylitis, stenosis, myelopathy, sacroiliac joint syndrome, spondylolisthesis, spondyloses, and spinal conditions affecting children. Our approach is to employ the least invasive, most effective treatments possible in every case.
The back and spine are some of the most complex systems in the body. Diagnosing spine or back pain requires a thorough examination and testing with the most advanced technology. Dr. Rovner and his team of certified medical professionals can accurately diagnose your condition prior to crafting a treatment plan to restore motion, reduce chronic pain, or treat and resolve a spinal injury or condition. Your treatment will be performed by a spinal surgeon in New Jersey who focuses on delivering the least invasive treatments, and who is at the forefront in the field of advanced spine and back treatments.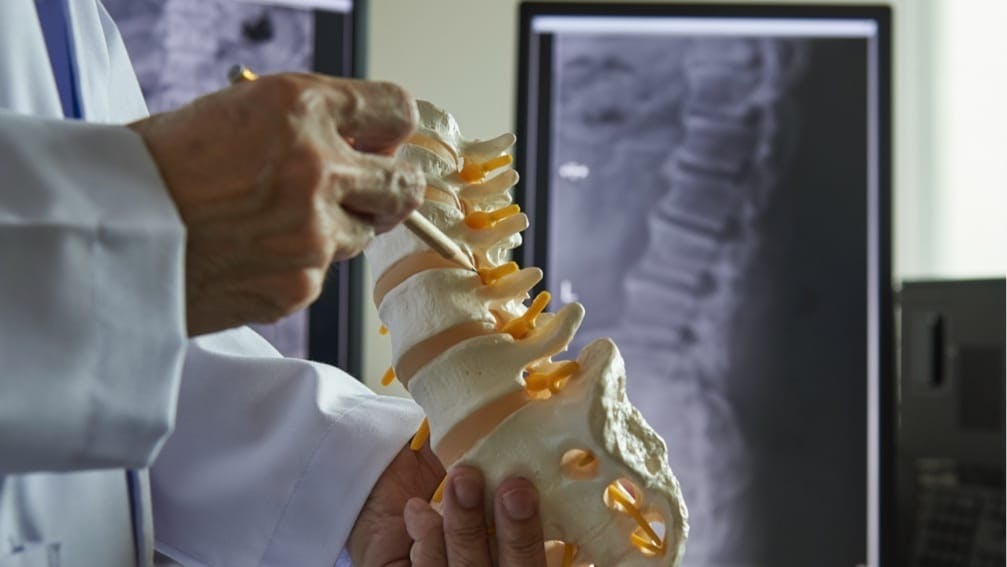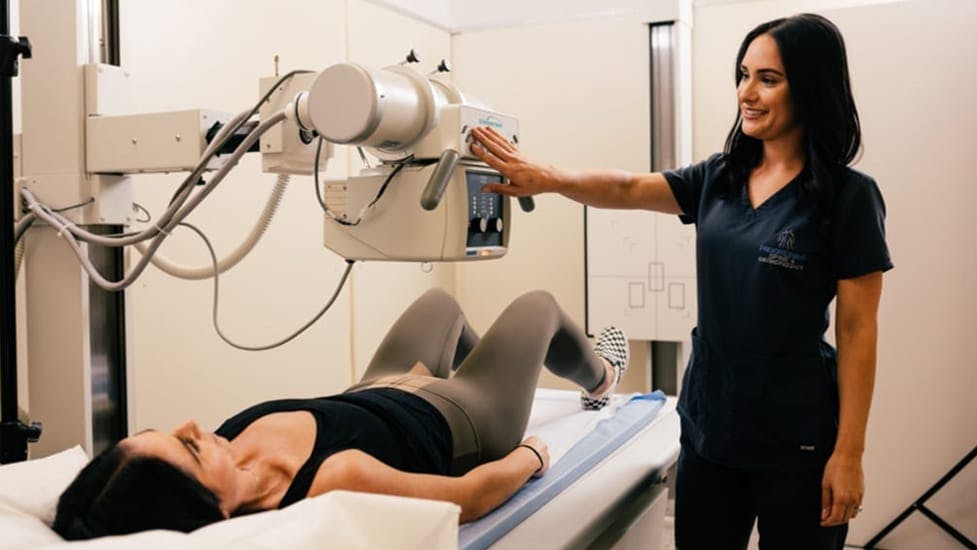 Real Patient
Testimonials Groundbreaking treatments
for spinal conditions
Spinal Surgeries
If you have exhausted all of your non-invasive treatment options and are ready for a more permanent solution to neck and back pain, Progressive Spine & Orthopaedics is one of the safest and most advanced surgical destinations in New Jersey. With a concentrated focus on minimally-invasive and robotic procedures, we leverage the latest surgical technology, instrumentation, and equipment available to resolve your chronic pain once and for all.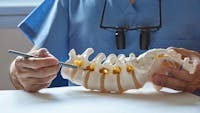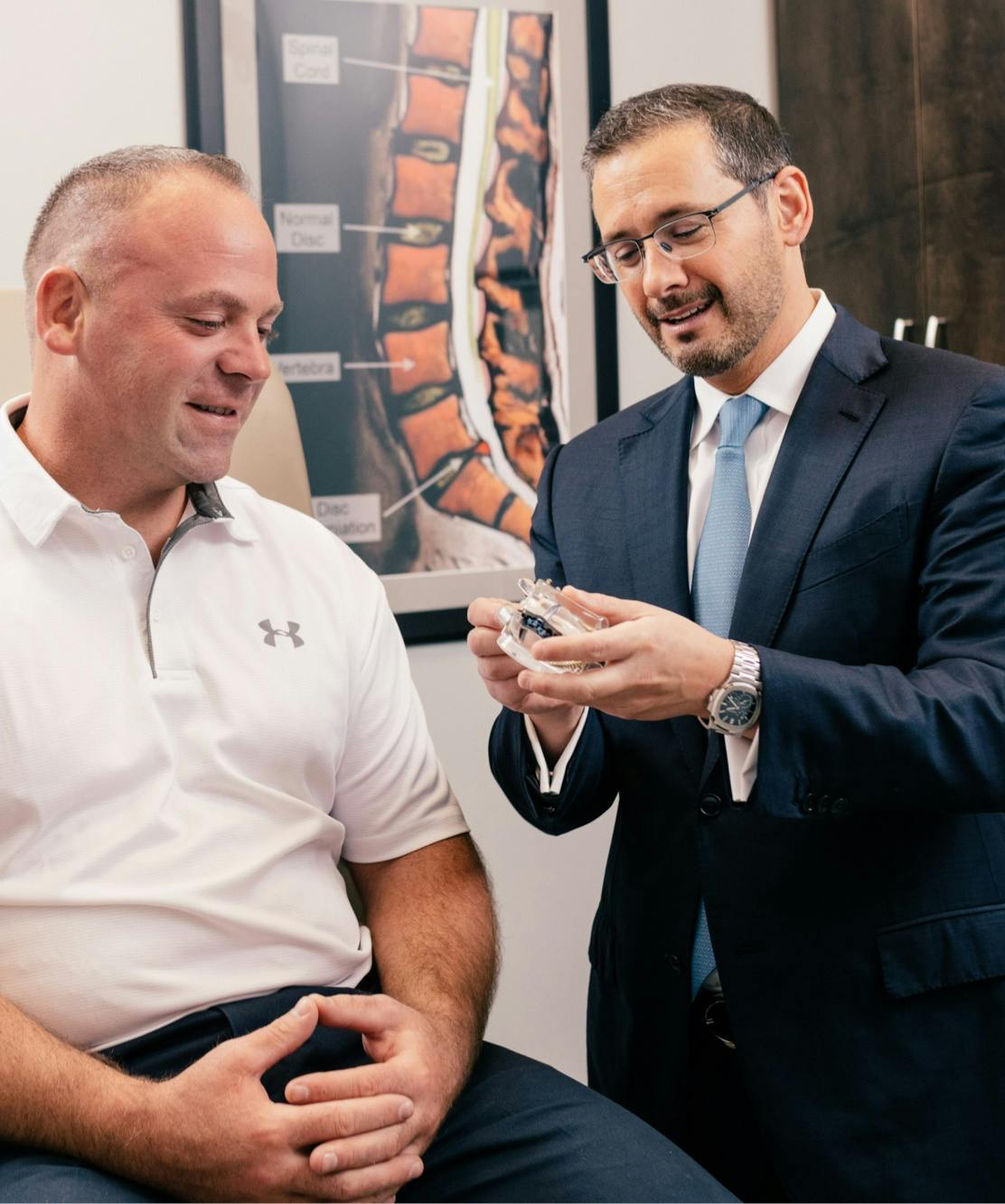 Leading New Jersey
spinal surgeon
Dr. Rovner is a certified spine and orthopedic surgeon in Edison, NJ. Certified by the American Board of Orthopedic Surgeons and licensed to practice in the states of New York and New Jersey, spine surgeon Dr. Rovner takes a personal approach to his practice, putting the concerns of his patients at the forefront of his practice. This comes with the territory of being one of the top spine specialists NJ can offer the public.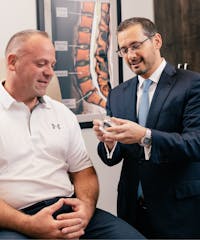 Mazor Robotics System
Robotic Spine Surgery
Our robotic procedures are performed with 3D surgical blueprints and one of the industry's best robotic guidance systems – the Mazor Robotics System. Combined, these technologies provide a comprehensive plan for the procedure and direct Dr. Rovner's instruments, ensuring unprecedented precision and increasing the likelihood of a successful surgical outcome.
One of the latest advances in spine treatment, robotic surgery gives our spine surgeon the ability to perform the necessary treatment with the highest level of accuracy. Known to reduce the risk of complications, boost accuracy, and reduce recovery time, robot-assisted surgery has proven to be far superior in results.
Advances in surgery have led to the development of robotic spine surgery. At Progressive Spine & Orthopaedics in New Jersey, our surgical team is dedicated to delivering the least invasive surgeries. If your spinal condition will not respond to a non-surgical treatment, we can perform robotic spine surgery, which is less invasive and has a faster recovery time. The procedure involves a specialized robotic system in which the surgery is performed with tiny surgical tools that respond to the precise motions of our spinal surgeon who is guided with real-time video. Our system, the Mazor Robotics System is the most advanced robotic system available, with the highest level of accuracy.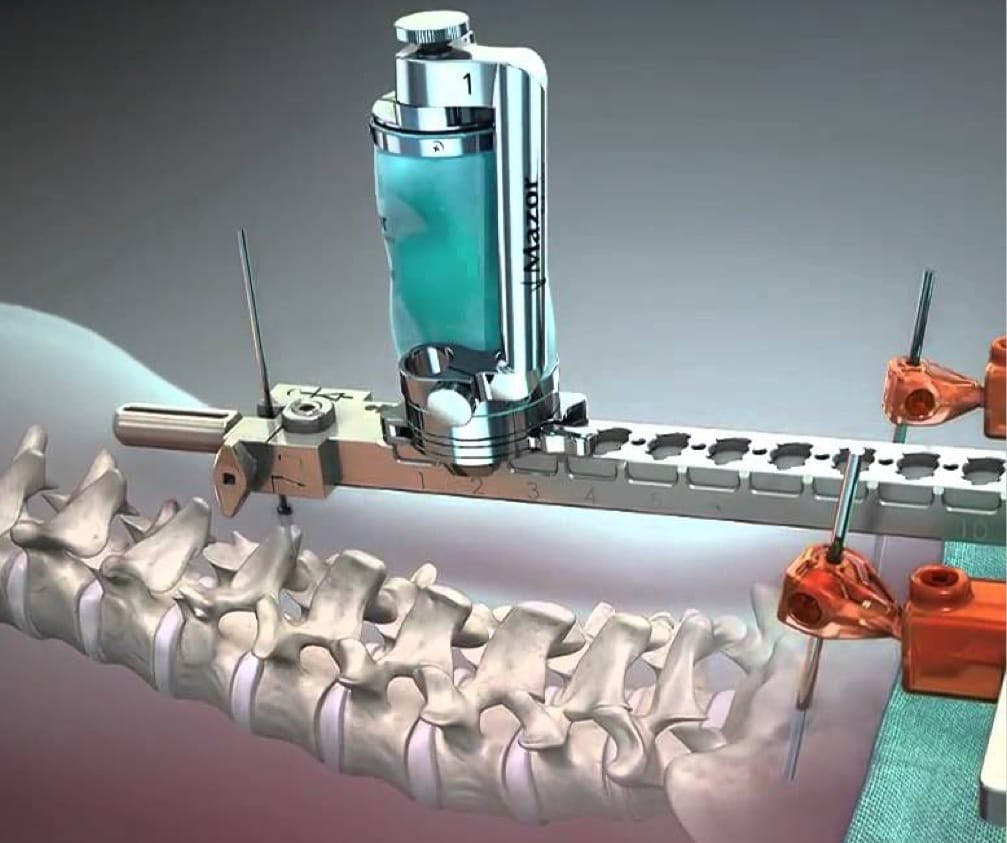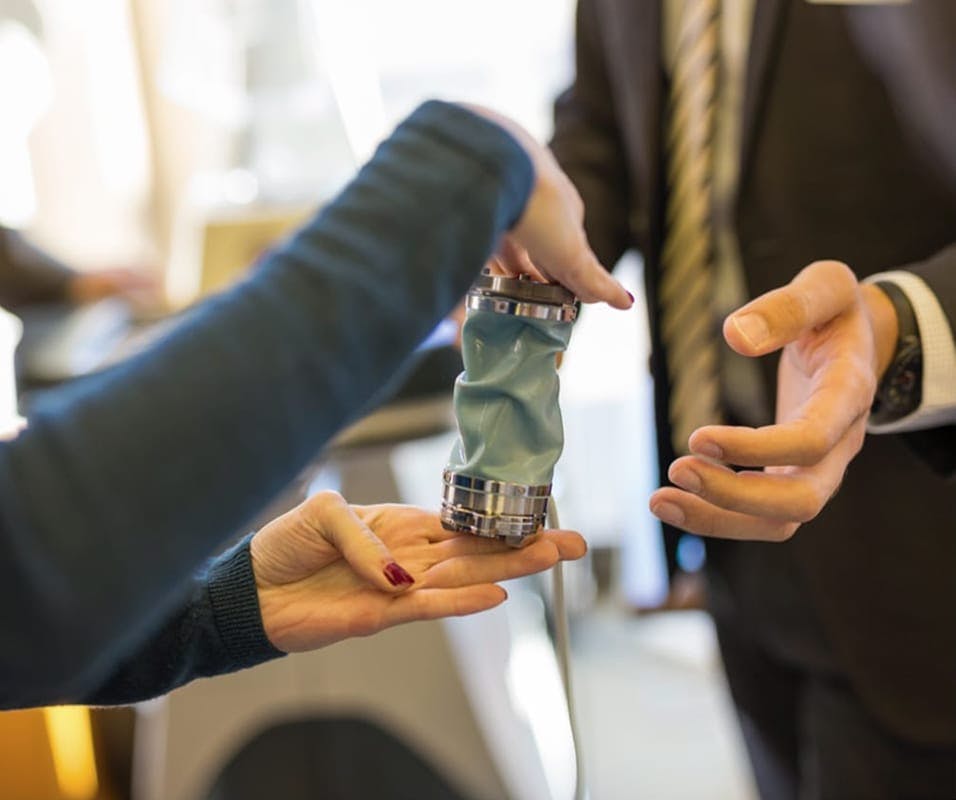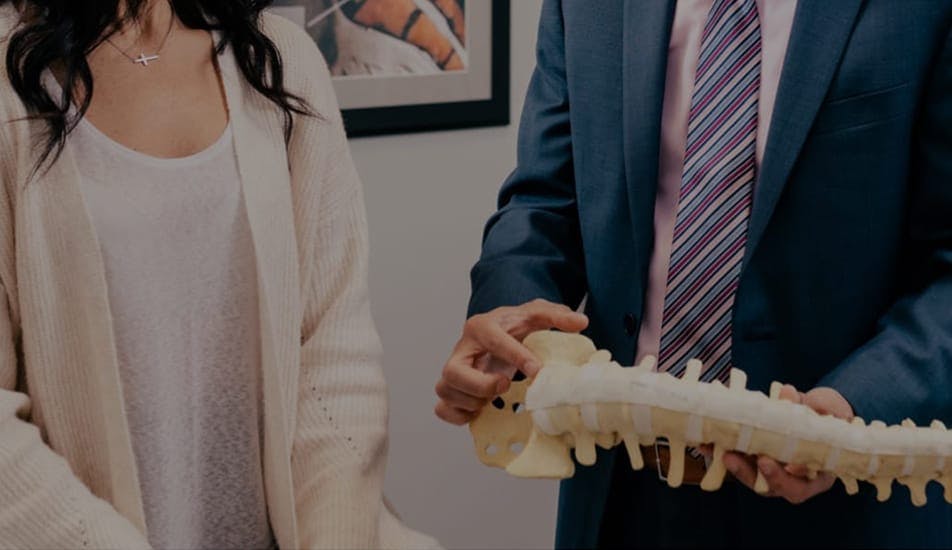 Spine Anatomy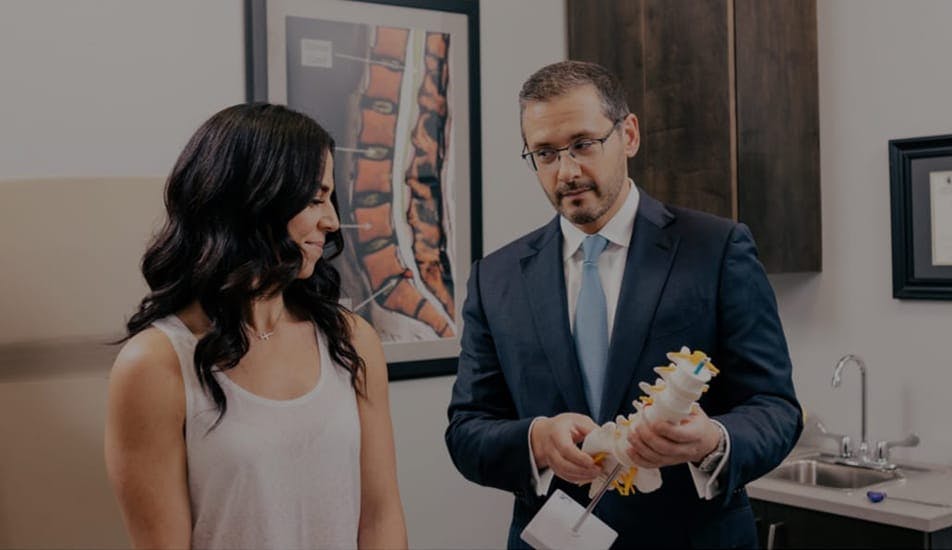 Sections of The Spine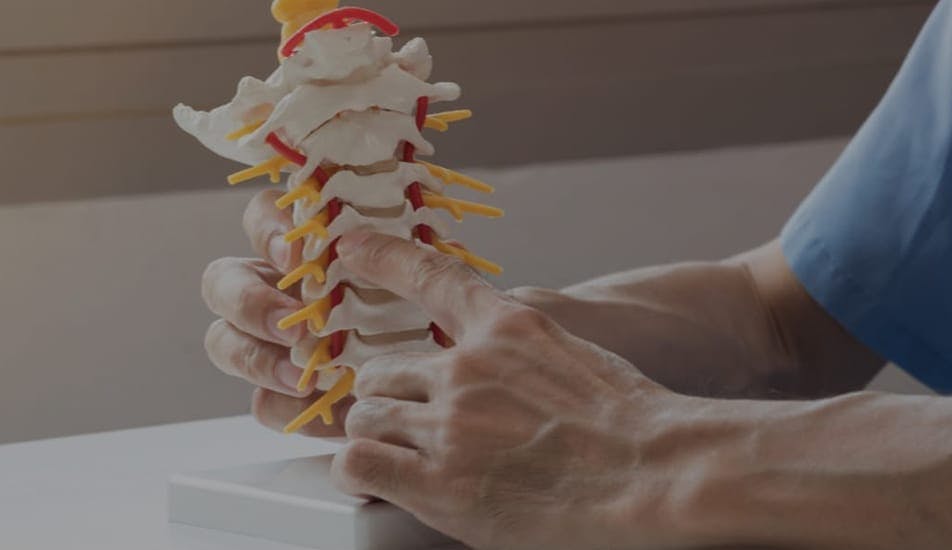 The Discs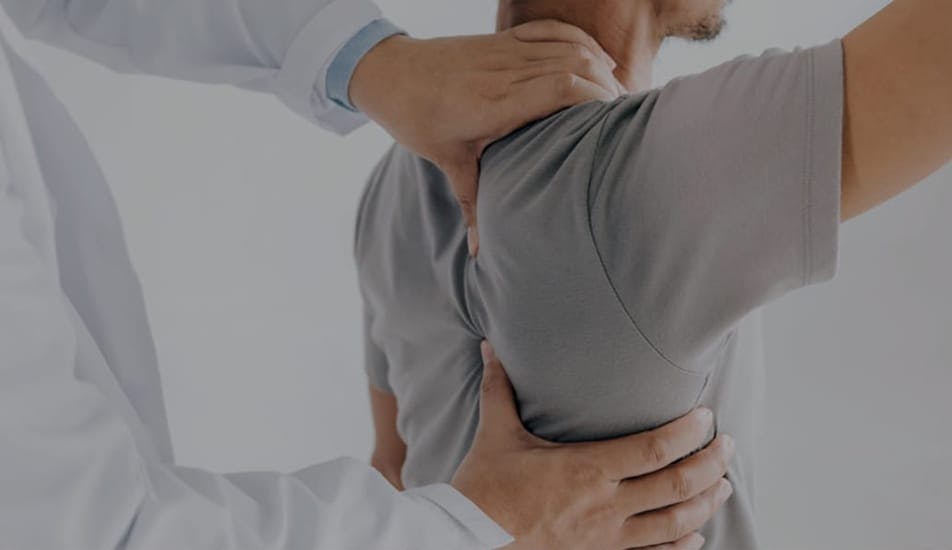 Treating Spinal Pain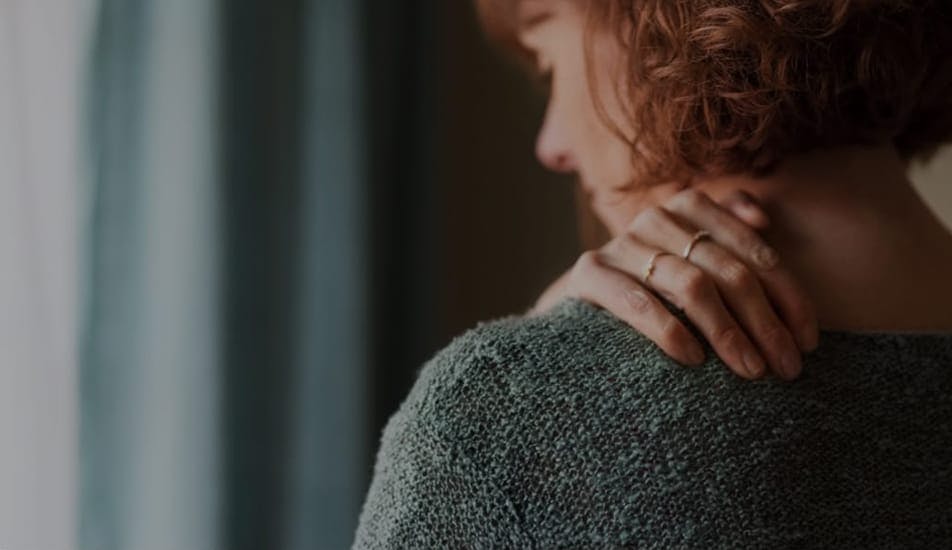 Symptoms of Spine Injury or Damage The spine is an amazing natural structure, but any surgical procedure must be very carefully performed. The spine is made up of thirty-three separate bones that flex and bend, while protecting the nerve bundle within the bone structure from injury or damage. Made up of muscles, bones, ligaments, and the critical network of nerves, any area of the structure that has suffered damage can lead to intense pain, limited mobility, or impairment.
The spine has three main regions. The cervical region has seven vertebrae, starting at the neck. The thoracic region is the mid-back, with twelve vertebrae. The lumbar region is five vertebrae. Below the lumbar region, are five fused vertebrae, the sacrum and the coccyx or tailbone.
Between each spinal bone (vertebrae) lies a natural cushion that works to absorb the stress of constant motion. This cushioning structure provides a surface upon which the bones can move freely, preventing the bones from touching each other. Each disc has two parts. The outer, sturdy covering is the annulus fibrosus. Within the disc is the nucleus pulposus, a gel-like, malleable substance allowing for flexibility.
The first critical step in treating spinal pain is to diagnose the source of pain accurately. At Progressive Spine & Orthopaedics, our spine clinic is equipped with the most advanced diagnostic technology. Our goal is to identify the source of pain and resolve it with the least invasive, most advanced techniques, and avoid surgery whenever possible.
The spine, when injured or damaged, can lead to very painful symptoms or impairment. You may experience severe pain, weakness in your limbs, pain when bending your back, sitting, or in other positions, muscle spasms, shooting pains, headaches, numbness, tingling, loss of sensation, and an array of other complaints.