Dr. Joshua Rovner Becomes 1st Doctor to Use Next-Gen 3D-Printed Metal Spine Implant: The Hedron IA
GLOBUS MEDICAL, INC., and BECKER'S HEALTHCARE lauded Dr. Joshua Rover as the very first spine surgeon in the world to use the brand-new, next-generation, 3D-printed spine implant, the "Hedron IA."


Dr. Rovner, MD, is the first spine surgeon to implant Globus Medical's Hedron IA a 3D-printed anterior lumbar interbody fusion spacer."

Becker's SpineReview
---
The Hedron IA is currently the only commercially available 3D printed integrated Anterior Lumbar Interbody Fusion (ALIF) spacer with anchor technology.
The Hedron is FDA approved and uber advanced. "HEDRON spacers feature a biomimetic porous scaffold designed to promote bone formation onto and through the implant," says Globus Medical.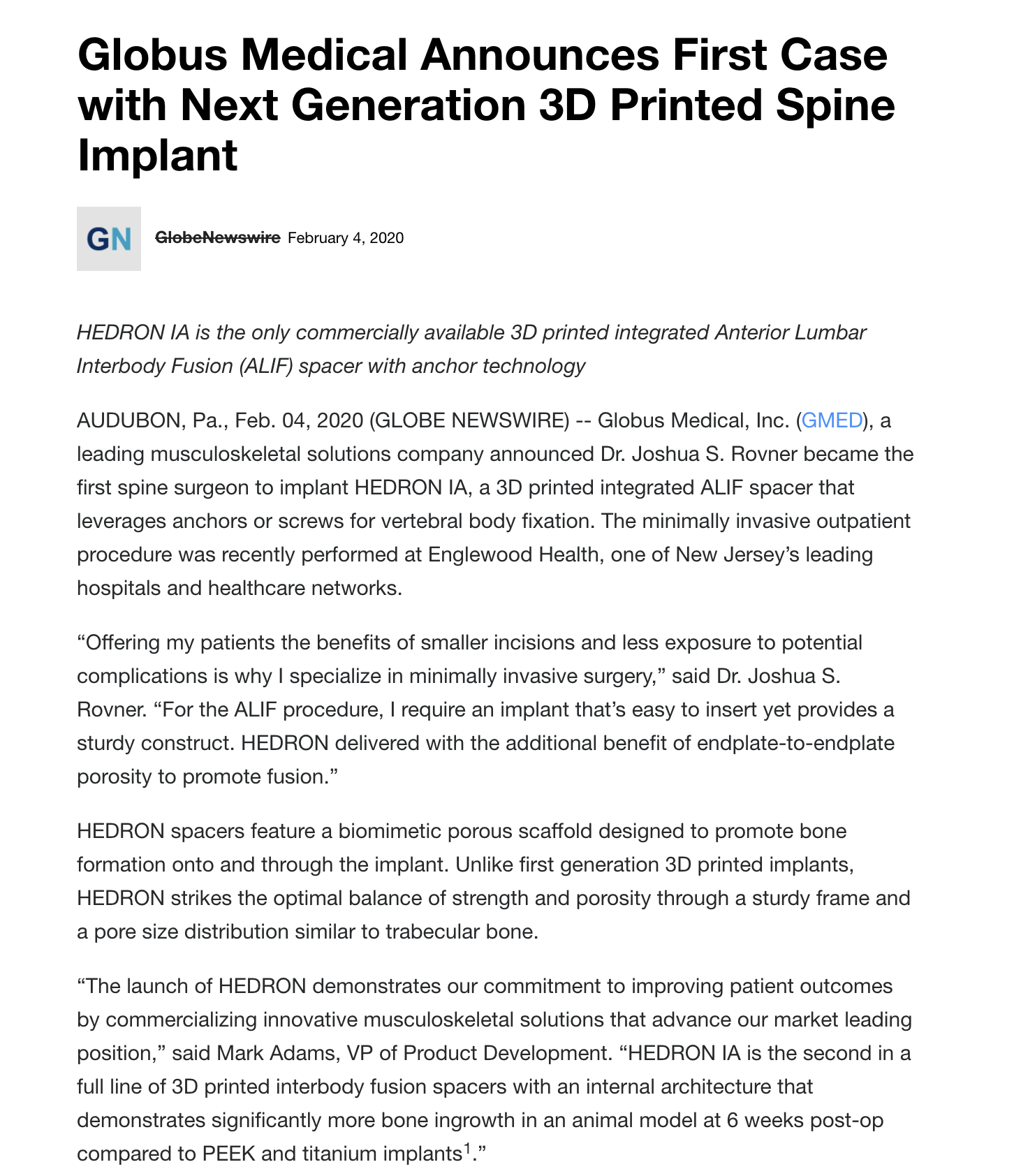 ---
To patients needing spine surgery, this means two things: Dr. Rovner remains abreast of industry developments to bring his patients the best in premium care, and, equally as vital, smaller incisions and less exposure to surgical complications.
"Offering my patients the benefits of smaller incisions and less exposure to potential complications is why I specialize in minimally invasive surgery."

Dr. Joshua S. Rover
Globus Medical (GMED) is a publicly-traded medical apparatus development enterprise that constantly pursues improvement in the lives of patients with musculoskeletal disorders. They hold several hundred patents for advanced medical devices.
Becker's Healthcare is the leading source of cutting-edge business and legal information for healthcare industry leaders.
---